Citizens State Bank is more than a bank.
---
Vision: Empowering our staff to meet the needs of our customers with a caring, flexible approach,centered on the goals of our institution, ensuring every interaction is in the best interest of the Client and the Bank.
Mission: To develop long-term relationships built on trust.
As a locally owned independent community bank, we value:
---
Our Community: We are community owned and community focused. We live, work, and play in the communities our bank serves. Supporting and fostering economic growth is a top priority at Citizens State Bank.
Our Customers' Dreams: You dream the dream; we'll help make it come true. Our team focuses on you as a customer and what you want and need. Each person and situation is unique. Put a banker on your side who understands that and works towards the same goal as you.
Our Interactions: We want all interactions to be positive and welcoming. Citizens State Bank has a service model in place to ensure we are servicing customers in the most welcoming way and that every interaction has your best interest in mind.
Over 100 years old and growing strong.
---
Citizens State Bank was chartered in 1902 when a group of businessmen, farmers, and workers created a banking institution to not only meet their financial needs but also foster the growth of their small community in Cadott, Wisconsin.
Two moves occurred before settling at the current location and relocating the drive-up facility to Highway 27, near the Highway 29 interchange. In 1985, a branch bank was built at the corner of Highways 178 and S in Chippewa Falls. In 1995, another full service office was opened in Chippewa Falls at the corner of Highways J and X. In 2019, a branch was added in Cornell on Bridge Street. View all locations.
Community Involvement
Our employees volunteer time every year back to their communities outside of the bank. Citizens State Bank Cares is a program in which the bank honors the time employees spent in their communities with organizations and programs the they are passionate about by giving back in the form of a donation based on the number of hours volunteered. In 2019, our employees volunteered 823 hours of their personal time!
We're proud of our unwavering commitment to our community. That's why we are a part of and support the following organizations:
4H Clubs
American Legion Auxiliary
Big Brothers Big Sisters of Northwestern Wisconsin
Cadott Archery
Cadott Boy Basketball
Cadott Class of 2020
Cadott Community Association
Cadott FFA Alumni
Cadott Fire & Rescue
Cadott Hornets Shooting Club
Cadott Lion's Club
Cadott Lions Ice Fishing
Cadott Police Department
Cadott Schools
Cadott Youth Baseball
Chippewa County 4H Horse Program
Chippewa County 4H Rabbit Program
Chippewa County Historical Society
Chippewa County Humane Association
Chippewa Falls Chamber of Commerce
Chippewa Falls Fire & Emergency
Chippewa Falls Kiwanis Club
Chippewa Falls Lions
Chippewa Falls Main Street
Chippewa Falls Oktoberfest
Chippewa Falls Safety Patrol
Chippewa Falls Schools
Chippewa Falls Wrestling
Chippewa Falls Youth Baseball/Softball
Chippewa River Baseball
(Cadott Red Sox)
Christmas Village
Cornell 4K Classes
Cornell Area Betterment Association
Cornell Schools
Chippewa Valley Homebuilders Association
Eau Claire Boat Show
Eau Claire Chamber of Commerce
Friends of the Cadott Community Library
Hallie Girls Softball
Hallie Youth Baseball
HSHS St. Joseph's Hospital
Jason's Presents
Jim Falls Lion's Club
Joshua Camp
Junior Achievement of Wisconsin
Lake Holcombe Booster Club
Lake Holcombe Schools
Lake Wissota Fireworks Fund
Lake Wissota Lion's Club
McDonell Area Catholic Schools
Musky River Hunt
Nabor Days - Cadott Community Association
Parkview Elementary School
Quarterback Club
Real Estate Association of Northwestern Wisconsin
Relay for Life of Chippewa County
Scarecrow Class
Spooky Stacker Stomp
St. Anthony Parish
Thursday Women's Golf League
Tilden Fire Department
Tilden Lions Club
Town of Lafayette Youth Recreation
Whispering Pines Golf Course
Wisconsin Restaurant Association
Yellowstone Art Trail
YMCA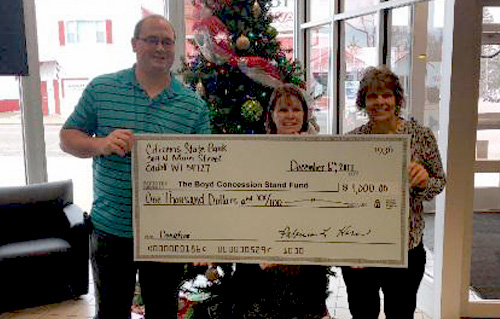 Careers
Citizens State Bank is a great place to work! Add your story to our 110 year history. Citizens State Bank is focused on development while offering excellent opportunities and benefits.
At Citizens State Bank, it's our mission to develop long-term customer relationships built on trust. We strive to maintain a sales environment that reflects our mission by identifying our customers' needs and promoting practical and beneficial solutions for them. Our management team supports our mission by actively working to maintain an environment that encourages open communication, problem-solving, and a high level of customer service.
You'll love our compensation package that includes competitive wages, generous benefits, training, and opportunities for advancement.
Be part of an organization that values integrity, teamwork, and relationships – send us your resume today!
Apply Today
Send us your resume:
---
Citzens State Bank
Attn: Human Resources
304 N Main St
Cadott, WI 54727
Download the application
Customer Service Representative / Bank Teller
The Bank Teller/Customer Service Representative's responsibilities include greeting customers in a friendly and courteous manner, processing financial transactions, vault balancing, ATM balancing, credit card balancing, and opening accounts for new customers. They have the knowledge of all bank products and services in order to assist customers in determining which bank products and services are best for their situation.
A qualified candidate has a high school diploma or equivalent and one year of cash handling and customer service experience. Prior teller experience is preferred. Drivers license and reliable vehicle required.
This full-time position will work primarily in our Cadott, Chippewa Falls and Cornell locations. Hours are between 7:15 am and 6:00 pm Monday through Friday and 7:45 am - 11:30 am on Saturday.
Compliance Officer
We are seeking an individual to join our team of professionals as a Compliance Officer.
At Citizens State Bank, you receive competitive wages and benefits:
401K program with elective contribution options and an employer contribution of 12% (with an additional 5.7% on anything over $10,000) of your compensation as profit sharing.
Over 15 days of PTO in your first year with a progressive scale as your longevity grows.
Health (with an employer-paid HRA to offset costs), dental, and vision benefits.
100% employer-paid Long-term disability, short-term disability, life insurance, AD&D, and an EAP.
Health Savings, flex spending, and dependent care options.
The Compliance Officer will be responsible for ensuring that Bank policies and procedures comply with all governmental regulations and laws. The Compliance Officer has oversight of the whole compliance function of Bank through being a resource for department leaders, an auditor of the compliance requirements, and the point of authority for the Bank to ensure compliance to regulations and laws. The Compliance Officer also tracks data, reports data and various findings, and recommends improvements or changes. The compliance officer serves as the BSA and OFAC officer for the Bank as well as serves on a variety Bank teams and committees.
Ideal candidate:
Must be customer/employee Focused
Demonstrate ethical leadership
Demonstrate strategic thinking and problem-solving capabilities
Demonstrate communication skills - oral and written
Knowledge of time management and organizational skills
Ability to interpret complex policies
Ability to document, track, and recommend from data
Ability to develop and maintain positive relationships with others
Ability and willingness to make timely decisions and exhibit sound and accurate judgment
Required Education and Experience: Bachelor's degree in business or finance is required. Equivalent experience or education in a related field will be considered. Minimum of two years direct experience required.